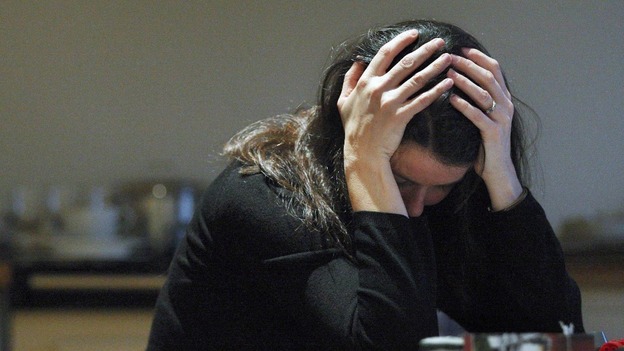 5 Ways To Survive Suffering Without It Killing You
This is a crazy world we live in (I missed a letter, so I first typed, "This is a 'cray' world." Either fits).
It seems we humans will go to extreme lengths to avoid, deny, or postpone suffering.
I certainly don't look forward to it. I continue eating poorly, because I don't want to deal with having to cook different foods. Not exactly suffering, but it shows how far we'll go to avoid even an inconvenience.
If it's this hard to do things that will make our lives better, what happens when we find ourselves in a place of true suffering? What's a human to do?
Suffering is part of life.  I know, it stinks. I wish it weren't this way, but I'm not God (thank God). I remember going through really tough times. I didn't know how to handle it. How do I make it stop? All I could think about was how much it hurt, and what I could do to change it. It seemed so unfair. I failed to grasp that suffering is part of life. We all suffer at some point. It's part of being human. Once I came to recognize that I was in fact suffering, and that it was a normal part of life, I relaxed a bit. I still didn't like it, but I stopped fighting as much. That's the way it is with so many non-happy things: Once we realize it's normal, we stop the fight and begin the healing.
Suffering is painful.  It hurts. Sometimes the pain is physical, like when we are recovering from surgery, or going through chemotherapy. Sometimes the pain is emotional, like when the person we love doesn't love us, or they die. Many times, it's both.
Suffering can be destructive.  Sometimes we are the victim. Nothing we could have or should have done could prevent it. A person with evil intent harmed us. We were involved in an accident. When this occurs, we need to find safe people to help us regain our physical, emotional, mental, psychological, and spiritual health. It hurts, it's not fair, and it's up to us to put our lives back together again.
Suffering can be therapeutic.  Sometimes things happen to us because we haven't dealt with our stuff. We have a temper, and we get fired. We don't trust people, so our spouse leaves. We deny financial reality, and lose our home. The positive from this type of suffering is that we have the power to change it! If we deal with our stuff, the pain will stop.
Suffering is purposeful.  Romans 5:3-5 says, "

Not only so, but we  also glory in our sufferings,  because we know that suffering produces perseverance;

 

4  

perseverance, character; and character, hope.  

5  

And hope  does not put us to shame, because God's love  has been poured out into our hearts through the Holy Spirit,  who has been given to us." When you're in the middle of suffering, this doesn't feel very comforting! After coming through, however, I can say that it's true. When the suffering is over, we realize we've persevered. Now we can handle more than we could before. We are stronger. As we grow, we realize our character is being stretched. Maybe we have more compassion. Maybe we're more honest. Maybe we can recognize manipulators more easily. Whatever the case, if we let it, suffering can make us better people. Because of this, we can hope again.  
What do you think? Tell me about your experience in the comments below.
This post written by Colorado Life Coach, Carrie O'Toole, M.A.